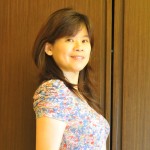 蘇 愛 雲 Irene Leigh アイリン 
學歷 Education
美國寶石協會研究寶石學家文憑
香港浸會大學持續學院 珠寶製作,珠寶設計課程修業
日本東京文化服裝學院 Fashion 工科課程畢業
東京文化外國語學校日文科系課程畢業
高雄樹德女子家商—服裝設計科畢業
-
Gemological Institute of America (GIA) Graduate Gemologist
Hong Kong Baptist University School of Continuing Education:
– completed courses in Jewellery Manufacture and Jewellery Design
Graduated in Fashion Studies from the Bunka College of Fashion, Tokyo, Japan
Graduate of the Japanese Language course from Bunka Foreign Language School, Tokyo
Shu-Te Home Economics School, Kaohsiung, Taiwan – graduated in Fashion Design
資歷 Personal
從事時尚服裝產業及珠寶設計工作已有三十年以上,目前仍在相關工作與相關課程領域裡。旅居日本

6

年,法國巴黎

2

年,上海

2

年,香港

12

年,出生台南目前台灣與香港往返。

2013~2016

樹德科技大學企業導師,飾品設計及時尚攝影兼任講師。

2012-2014

台灣高雄樹德科技大學流行設計系靜動態畢展評審。

2011-2012

獲選台灣高雄市文創人才回流補助案。

2010

曾任勤益科技大學及僑光技術學院研習營講師。

1993~

日本名古屋瀧兵纖維株式會社

–

香港事務所任職
我向來熱愛手作工藝,也持續在這個時尚工作領域裡從沒改變過…凱瑟霖娜就是我的女兒的名字。在她小時候我為她縫製小洋裝,手作項鍊手環,她是我心頭裡的一顆發亮的明珠。
她與我一樣,對攝影,繪畫都很喜愛,我們兩人常一起拿相機追著夕陽,追雲朵,她拿廣告顏料作潑彩,她畫油畫及膠彩,我卻是黑白世界,鉛筆,毛筆工筆畫,我們倆人的設計交錯在一起就是彩色大擊撞,於是我將她與我的設計製作成立了一個兩個大小女人的小小夢工場-從珠寶飾品到完整精緻的禮服整體造型是我們對設計製作的完美堅持。
珠寶是個很特別的物質,搭配在禮服上有著不可思議的迷人魅力…
古老的,新的。。。尤其是在新娘的大喜日子代表著不凡的傳承意義及動人的故事,有著屬於自己最特別的美好回憶… …
I've been engaged in Fashion and Jewellery branding and the clothes manufacturing business for over thirty years, and now also lecture on the subject. I have lived and worked in Japan for 6 years, in Paris and Shanghai for 2 years each, and Hong Kong for 12 years. I was born in Tainan, Taiwan, and now travel regularly between Taiwan and Hong Kong.
2012 – 2013: Examination appraiser and lecturer at Shu-Te University, Kaohsiung, Taiwan.
2011 – 2012: Achieved the honour of being voted the Fashion Jewellery Design Representative for Kaohsiung, Taiwan.
I have always adored hand craftsmanship and indeed never left the field of fashion. Catherine is my daughter's name. When she was small, I would make clothes as well as necklaces and bracelets for her. She's really the jewel in her mother's eye. We both love painting and photography, and would often go together, cameras in hand, in search of the clouds or the setting sun. She would go with her poster paints to apply a splash of colour, or else use oil paints or acrylics, while I preferred to paint in black and white, use crayons or even practise calligraphy. Our designs would meld in a cacophony of colour, and it is from those designs between mother and daughter that came the inspiration for this little dream studio, where we strive to remain true to the total image of beautiful jewellery and exquisite bridal gowns.
珠寶具有一定的獨特性,將珠寶與新娘禮服完美地結合在一起是一種藝術。舊的,新的……尤其是在新娘的特殊日子裡,珠寶代表著一個動人的故事,並且將是多年來最珍貴的個人記憶。